Virtual Event
Juneteenth Tech & Career Talk by BDPA National
June 18, 2021 @ 11:30 am

-

12:30 pm

EDT

Virtual Event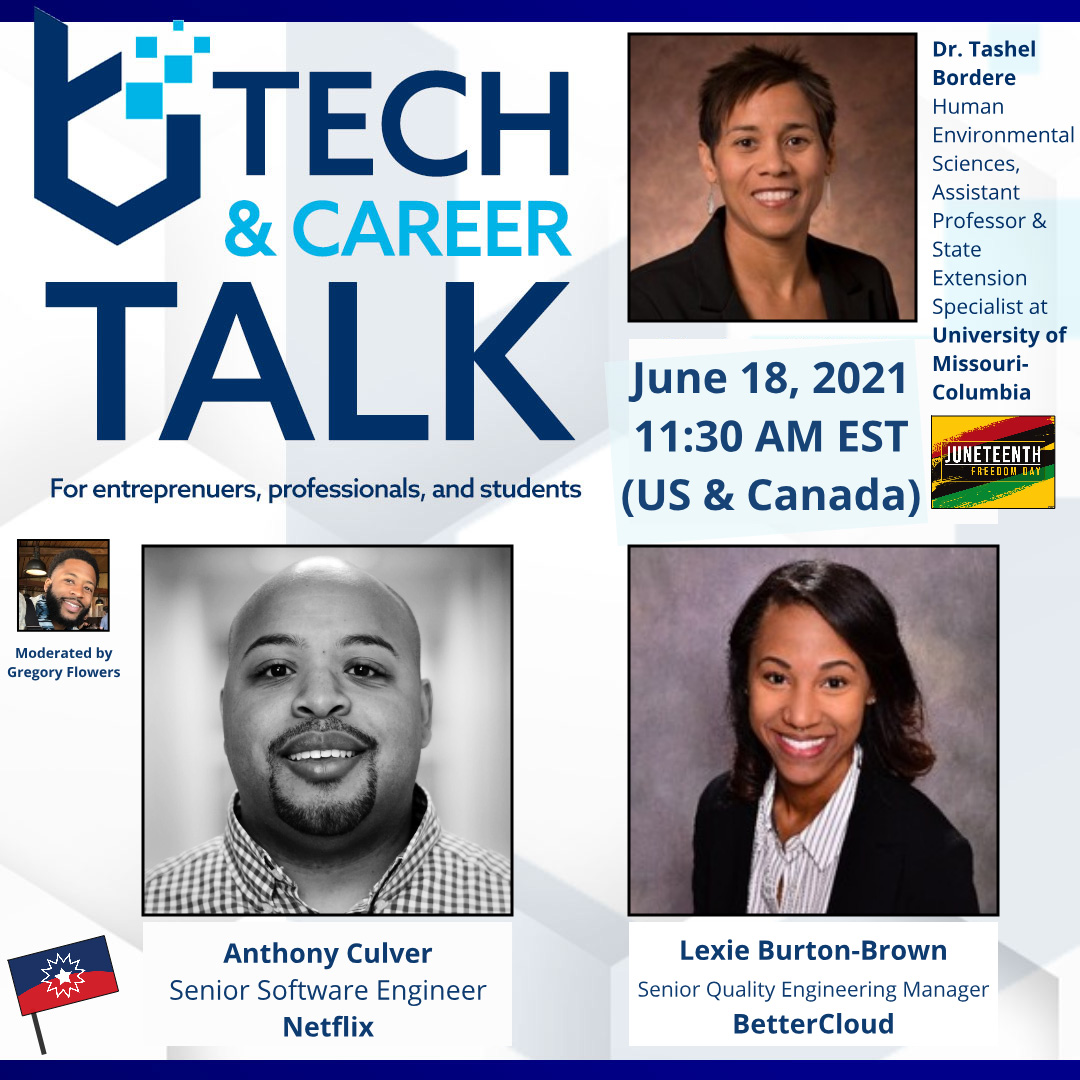 The BDPA Tech & Career Talk series is dedicated to professional growth for technology professionals in IT, Data Analytics, Cloud Computing, and other technology-related fields.
This week we are hosting the Juneteenth Edition.
Please join us for this event on Friday, June 18, 2021 @ 11:30 EST.
Registration Link: 
https://zoom.us/meeting/register/tJclde2urzssGNROrwE0DLOEfTBcBVqlPR6k
The theme is "The Influence of African Descendants in Modern Technology".
Our guests are Dr. Tashel Bordere (Associate Professor and State Extension Specialist at the University of Missouri-Columbia), Anthony Culver (Senior Software Engineer at Netflix), and Lexie-Burton Brown (Senior Quality Engineering Manager at BetterCloud).
This will be a discussion-style panel with a group from diverse backgrounds where we will talk about the effects of slavery, employment in the Black community, and the influence of African descendants on modern technology.
Remember, there is little progress without struggle and together we are empowered to make a difference.
Thank you.
Dr. Tashel Bordere Bio:
Dr. Tashel Bordere is an Assistant Professor of Human Development and Family Science and State Extension Specialist in Youth Development at the University of Missouri-Columbia. She currently serves as Board Member of the Association for Death Education and Counseling, Board Member of the National Alliance for Grieving Children, and Advisory Council Member of the Tragedy Assistance Program for Survivors (TAPS). She has specialized education and training as a Certified Thanatologist (Death, Dying, and Grief). She has served as Editor of the ADEC Forum publication. Dr. Bordere's research program assumes a contextual approach focusing on trauma, loss (homicide loss, assaultive violence – sexual assault), suffocated grief, and Black youth and family bereavement.  She studies cultural practices that promote healing and survival. Dr. Bordere has done numerous workshops, consultations, keynotes, and published research relating to social inequities and culturally responsive practices in loss including her co-edited/co-authored book, Handbook of Social Justice in Loss and Grief (Routledge). She recently completed a Forward Promise Fellowship through the Robert Wood Johnson Foundation focusing on the promotion of healing, growth and thriving among boys and young men of color. Dr. Bordere was awarded the Ronald K. Barrett Award (2018) from the Association of Death Education and Counseling for her research on Black adolescent and young adult grief. She has been featured in multiple media outlets including USA Today, Legacy.Com, Houston Chronicle, Philadelphia Inquirer, NPR (WPSU Take Note), on national and international podcasts (Grief Outloud – Dougy Center) and webcasts (National Alliance for Grieving Children), and the Open to Hope Cable Show – Saving At-Risk Youth. She developed the S.H.E.D. Loss and Grief Tools Training.
Anthony Culver Bio:
Anthony is a Senior Software Engineer at Netflix in the Content Engineering group, building collaboration services and reporting infrastructure used by other Netflix studio engineering teams. A Chicago native, and alum of both Clark Atlanta University and DePaul University, Anthony has built a career focused on data engineering, as well as backend service and platform engineering. He is also a husband, father of three, lover of music, movies, video games, and a novice Raspberry Pi tinkerer.
Lexie Burton-Brown Bio:
I am a strong advocate for diverse and inclusive environments while developing and investing in others through critical conversations and empowerment. A manager of QA with more than 7 years in the technical space. Skilled in leadership, recruiting & hiring agile product development, and technical problem-solving. Strong quality assurance professional with a Bachelor of Arts (B.A.) focused in Sociology from Georgia State University.